Why Pressure Cleaning Your Roof Is Important?
[fullwidth_text alt_background="none" width="1/1″ el_position="first last"]
[one_half]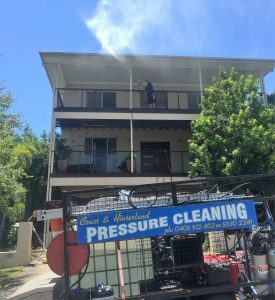 [/one_half]
[one_half_last]
[/one_half_last]
[/fullwidth_text]
Is my roof under attack?
The short reply to the above question is "YES". Roof is one of the worst attacked parts of the entire building. Why we say this is because of sun, rain, snow, moss, algae, lichens, fungus and mold that constantly degrade the condition of the roof. If you happen to have tiled or iron or tin roof, the situation is even worse. No matter what cleaning agent you use, there will always be some parts of the roof which will be hard to clean. Tin and iron face even greater danger because of natural factors that cause rusting and other such issues.
But, is the situation that hopeless? Certainly not!
Powerwash Pressure Cleaning and American Roof Soft Cleaning is the solution.
Powerwash brings to you advanced pressure washing solution which has got major advantages over other regular cleaning methods. There are many confusions and inhibitions when it comes to using pressure washing for roof cleaning. But, let us assure you, it is mostly because of the fact that very little is known about this process. We will give you a comprehensive idea about our process and how our brand new service will help restore the beauty of your roof.
Will pressure cleaning damage my roof?
This is a major concern among many. Even though any experienced professional like me will assure you that such an incident has never actually occurred during our operation, the concern is a genuine one. Employing inexperienced cleaners can actually cause damage to the roof and loosen the tiles and other joints, making it vulnerable to rain. This is why you should always trust a professional with this job. Pressure washing is a specialized job and needs to be done very carefully. Powerwash has the best experienced professionals who can perform it perfectly without causing any unwanted damage.
It is not always about using a high pressure jet of water that will get the job done. Keeping in view the type of material being cleaned and the type of the roof, we also employ the superior soft wash method. We concentrate on the right cleaning method and use only soft pressure to wash away all the unwanted deposits off the roof, reinstating the old glory. At Powerwash we have introduced American Roof Soft Wash that will get rid of the unwanted materials without causing any damage to roof.
Our professionals understand that different types of roof need different treatments. The same pressure technique is not suitable for all. Our cleaners vary the pressure as and when required and also use different methods to get the best result out of minimal effort. It is possible to clean almost any roof with the right method. The trick is to determine the right pressure, which will neither be too high, nor too low. Just the right amount of pressure will get the cleaning done and the roof will be sparkling like it is brand new.
If you have any query, please contact us!
Contact US
How Powerwash pressure roof washing helps?
Higher life of the roof is the first and foremost advantage. A clean roof will not have any substance which will be degrading the life of the roof. While most believe that mold or algae or moss covered roof is just a visual mess, fact is, these minuscule bodies cause severe damage to the base of the material of the roof. They simply act as a catalyst for water damage of the roof. It is essential that you get rid of these unwanted materials and save the untimely degradation of the roof.
A clean roof will form a positive impression about the house in the mind of probable buyer. It is fact that roof covered with moss and algae and other such materials reduce the overall price of the property as well as its attractiveness.
The black formation on the roof actually causes the roof to get heated faster. Even if you are using reflective granules, they do not perform as intended, resulting in higher room temperature and more electric consumption by air-conditioning system.
Pressure washing is by far the most budget friendly roof cleaning option. You can check out the quotes for other cleaning methods and compare it with our own if you may wish to.
Growth of moss, mold and other fungus cannot be curbed completely. The only solution is regular maintenance and cleaning.
Contact Powerwash for high pressure roof cleaning and American soft roof washing service and roof maintenance services.
Contact US