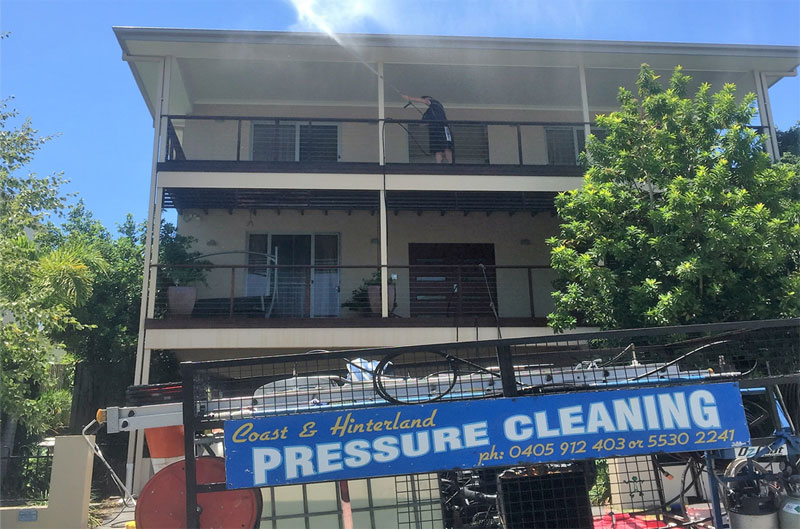 Professional House Washing Gold Coast Service Helps Your House Retain Its Beauty
A house is a matter of pride. Every person has his/her own dream house that he/she wish to build at one point of time in life. Once that dream is achieved, it is truly a feeling of elation that fills up the heart. However, just about 5 years or so later, the house loses all its glory. It becomes dull and its exterior seem like it has been ages. Haven't you ever looked at your dream home and remembered the brand new look it once had?
We all age and lose our beauty, and so does the house we live in. However, unlike our aging, we can actually reverse the aging look that our house dons upon itself; or should I say the old look that the house is covered with? Professional house cleaning experts can get the better of the factors that cause your house to look dull and lusterless.
Why should you hire professional house cleaning experts?
This is quite a valid question. Most of us are capable enough to clean our house on a regular basis and will feel that having a professional house cleaning expert cleaning the house is a waste of money. However, fact is quite the opposite. There are areas within the home as well as outside it which cannot be reached with domestic effort, nor are they easy to clean. Places like the cracks between the planks of the house patio or deck or the house itself, the roof of the house. The balcony of a pretty tall building, all of these are hard to reach and clean. Besides, when surfaces like polished wood or marble or stone are concerned, one will have to select the cleaning agent pretty carefully so as never to damage the surface of the area being cleaned.
Professional house cleaning experts are well versed with various types of surface cleaning and using a variety of means to achieve the desired result without damaging the property. Also, professional house cleaning experts are covered under insurance and you can rest assured that you will not be paying for any damage, if caused to the property, repair works. Professionals also have access to the most sophisticated tools for deep cleaning and cleaning the impossible areas of the house. Thus, hiring a professional cleaner is worth every dollar you will be spending.
How Powerwash house washing Gold Coast make a difference?
Powerwash is a trusted and reputable name in the field of ho9use washing. Their superior high pressure cleaning as well as soft house washing has earned accolades from those who have benefitted from their service. The professional team of house cleaning experts has turned the scenario of house washing Gold Coast and nearby areas in Australia. Offering best cleaning at most affordable rates is the unique selling point Powerwash has been riding upon and increasing their dedicated client base.
What are the cleaning methods employed in house washing?
House washing is achieved through an array of pressure cleaning methods by Powerwash. Broadly speaking, there are two types of pressure cleaning, depending upon the pressure of the water jet being used – high pressure cleaning and soft pressure cleaning.
It should be amply clear that high pressure cleaning involves spraying of high pressure jet of water on the area to be cleaned. The high pressure washes off all the unwanted particles and the deposits off the surface and brings back the original new color and charm. This method is common while cleaning concrete walls, washing off paints from walls, cleaning rust stains from various surfaces, or while cleaning wooden platforms, decks, and patios.
Soft pressure cleaning is used in case of more delicate surfaces. If the surface is made of soft stone or while cleaning tiled roofs soft washing is used. Pressure of water is kept low, but that does not compromise with cleaning efficiency. High pressure can damage the surface or loosen tiles. Which is why, more advanced soft pressure cleaning is employed while cleaning these areas.
Pressure cleaning also involves use of special methods under special circumstances. One of the most common techniques employed by professionals for cleaning stubborn stains and layers formed over the surface is mixing hot and cold water jet in the cleaning process. Besides hot and cold pressure cleaning, cleaning agents are also used for certain special purposes. However, use of cleaning agent is not very common and the agent used is soluble in water, which means there is no trace of cleaning agent left after the cleaning is complete.
Is pressure cleaning indeed a budget friendly option?
All of us consider the budget at every point of our life. Thus it is quite natural that while taking and important decision such as hiring professional cleaner for your property you will consider budget as well. Pressure cleaning is by far the best option you have got when you want to have best cleaning service done within a decent budget.
Pressure cleaning involves use of water jet for the purpose of cleaning. Even though an individual trying to get the machines used for this purpose will find them highly priced, fact is, professionals make these investments for long terms and for bulk works. Thus, the rate of machines used has nominal repercussion on the overall budget of cleaning. Water is the cleaning agent and is available in plenty. It is also the cheapest cleaning agent, unlike various chemicals or artificial cleaning agents. In case there is any type of cleaning agent used along with water while cleaning, the agent is mild and eco-friendly, and certainly not high priced. This br5ings down the overall cost of cleaning and makes high pressure cleaning definitely one of the most preferable professional cleaning method in terms of budget.
Powerwash has created a niche for itself in high pressure cleaning and house washing Gold Coast market. Providing the best in professional cleaning at most competitive rates, Powerwash should definitely be your first choice. Do not let the beauty of your beloved home fade away any more. Contact Powerwash to get best professional cleaning today.
Is your house looking decades old even though it has been just a few years since you have built with utmost care and the best materials? Has your elation about how beautiful your house look has faded ever since those stubborn stains and dirt have accumulated all over it? Do you know that periodic cleaning of the entire house not only help in retaining its beauty but also acts as a major deterrent for various other issues that arises over time?
Professional house washing is what you need to keep your beloved home sparkling like brand new over time. When we are speaking of professional house cleaning service, we are referring to the specialised job that professionals carry out. There are a number of factors that needs to be taken into consideration, such as the type of surface being cleaned, the material used in the construction of the surface, resistance and aversion of the surface construction material to various chemical cleaning agents that are generally used for cleaning purpose, and such others. However, Powerwash brings to you the perfect cleaning solution that removes these complexities and probable risks without compromising on the final cleaning result and reducing the cost in a number of cases.
What's different about Powerwash and why should you opt for Powerwash house washing service?
Powerwash is a team of professional cleaning experts with years of experience in cleaning various types of buildings and surfaces. We ensure complete satisfaction without damaging the surface being cleaned. Powerwash employs the superior high pressure cleaning method that has been proven effective against the most stubborn stains and dusts without damaging the surface being cleaned.
The question here is, what is high pressure cleaning? How is it different from the conventional cleaning and why should anyone opt for it? To begin with, high pressure cleaning is cleaning with only water. This might sound unbelievable, but simple water is effective than the harshest cleaning agents in 90% of the cases. The rest 10% also includes water as the main cleaning agent, but mixed with some mild cleaning solution that is essentially eco-friendly.
The process of high pressure washing, as is evident from the name, involves firing a jet of high pressure jet of water on the target area for cleaning. The pressure of the jet can be varied depending upon the type of stain or dirt and the surface being cleaned. Since water at very high pressure is used, it can even be used to clean the deepest and most difficult to reach areas of the house. Often, there happens to be dirt or mould or other such unwanted deposit formation deep into some hard to reach areas of the building. The jet of water can be used to easily reach any crevice or other spot and clean them completely. Since the water jet is fired at high pressure, even high places are not exactly out of reach for the cleaners.
High pressure cleaning involves using alternate jets of hot and cold water as well. This process is employed for cleaning off the most stubborn stains. Using high pressure cleaning almost always guarantees removal of all types of stains and smudges from any surface without causing any damage to the surface. This has contributed to the increasing popularity of this method of cleaning.
Powerwash has been successfully implementing this highly effective method for years and have crafted a niche for itself providing professional high pressure cleaning service at best rates. With Powerwash there will be no more stains to steal away the beauty of your beautiful abode. Call Powerwash today and avail of their superior house washing.